Spearfishing
Spearfish in the warm waters of the lagoon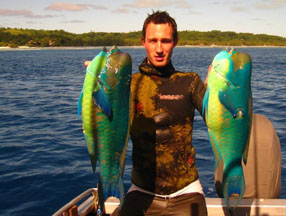 Spear parrotfish off the reef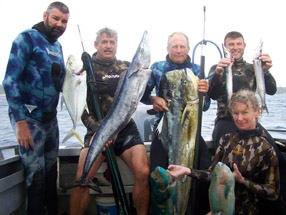 New and experienced spearfishers welcome
We cater for the experienced spearo as well as the beginner who has never held a gun but wants to have a go.
An average amount of strength is required to load guns.
Experience Level
INEXPERIENCED or BEGINNERS
Aitutaki's lagoon, which is 54sq/km, is the perfect location to learn how to spearfish. Its reasonably shallow, 2/3rds is under 5m and spearfishing can be done in a couple of metres. Its clean water with visibility usually out to around 30m and an average water temp of around 20deg. Shooting fish here can be done from the surface and doesn't require huge breath holds. There are a variety of fish to shoot, and fish shot will be either put on the BBQ for lunch or taken back for dinner.
MORE EXPERIENCED
As well as the lagoon we have a reef which surrounds the lagoon and is aprox 42km around. Spearing off the reef goes require a certain amount of skill in the breath hold and diving department. The water is a lot deeper and the fish tend to stay down which will require going down to shoot them. Nice table fish such as snapper, parrot fish, trevally can be found on the reef as well Giant Trevally, barracuda, and the dog tooth tuna. Sailfish have also been shot off the reef.
EXPERIENCED
We have 4 FADs, (fish aggregation/attracting devises) that surround Aitutaki, they are in around 1000m of water and have produced some nice yellowfin tuna, wahoo and mahi mahi. This is really for the experienced spearo as we are a long way off shore and the currents can be strong.
Here we do have something for everyone so if you are interested let us know.
Cost
Lagoon (Beginners)  – Half day $400  1- 4 pers
Blue Water/Outer Reef – Half day $ 500; Full day $ 900.  Cost based on 1-4 pers using own gear.
We do have limited gear for hire, enquire for hire costs.
Included in the costs are hotel transfers, morning or afternoon tea, cold drinks, snorkelling equipment and towels.
Top