Fishing
We cater for guests with varying degrees of experience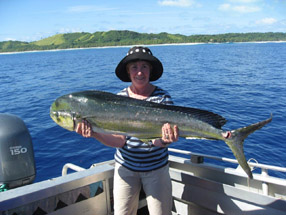 Target species include mahi mahi
Fishing around the FADs and reef often results in wahoo
Please visit our facebook page to see photos of latest catches. "Black Pearl Charters Aitutaki"
We cater for all experience levels and thrive on the first time fishos. You can do as little or as much as you like on your charter, from relaxing until the fish hits to becoming part of a crew, setting and retrieving gear.
Our main method of fishing is trolling or towing hard and soft body lures behind the boat, targeting the pelagic species, especially yellowfin tuna, wahoo, and mahi mahi. Other methods could include slow trolling soft plastics for yellowfin, and when in season, Apr-Oct, live bait for mahi mahi and yellowfin tuna around the FADs, flicking and trolling soft plastics on the reef for all different types of reef species, dropping baits down 250+m on electric reels, casting for Giant Trevally and  slow jigging for bottom species, ie, coral and coronation trout. Targeting GTs and Slow Jigging may require you to bring a few of your own lures to keep the costs down as i have to charge for lost lures due to the amount lost chasing these species. (Email me for recommended lures)    NB – These other methods are offered on private charters only as we have to take into account others on the boat who are not familiar with these methods.
NB:  To fish for GTs you will be required to cast at least 50m with spinning outfits.  Due to the dangers of casting for GTs close to the reef experience is essential.
We either fish around the Fish Attracting Devices (FADs) or on the drop offs, this means the furthest we travel away from the land is around 2 km and we can be fishing within 5 min from leaving the wharf.
CHARTERS AVAILABLE and COST
Please note that the number of passengers that can fish at any one time is dependent on the type of fishing we are doing at the time. Our rates are for the hire of the boat, the crew and our expertise and local knowledge e.g: trolling around the FADS we normally fish 2 anglers at a time and rotate the strike. If you'd like more information on how that works, just send us an email.
We offer 1/2 day shared and private fishing charters and full day private fishing charters.
On a shared charter we have a maximum of 4 and we do require a minimum of two to go out. (Shared charter only)
On a private charter the boat is your own and we can offer you other types of fishing that we can not on a shared charter. This could include spearfishing, casting for GTs, flicking soft plastics close to the reef or slow jigging in 60-100m for the reef species or snorkelling inside and outside the lagoon.
We also offer 1/2 day mix and match charters, this is where we'd divided the 1/2 day between fishing and snorkeling/island hopping. Snorkeling can be outer reef or lagoon.
COSTS
Half day shared charters $200pp, 4 hrs
Half day private charter $600, 1-3 pers, $700 4 pers, 4hrs, Full day private charter $900 1-3 pers, $1000 4 pers 8-9hrs
MIX and MATCH CHARTER (based on two persons) private only.
Half day $600
Extra Costs: Because we lose so much gear chasing GTs we do have to charge extra for lures, $50 per stick bait lost. We do suggest you bring your own as you should get them cheaper, email me for advise on type, size and colour.
Target Fish Calendar
Yellowfin tuna all year round, larger fish up to 50kg between December and March.
Wahoo all year round but more prolific between July and November, average weight 20-25 up to 40kg.
Mahi mahi (dorado, dolphin fish) July and October average weight 15kg up to 25kg.
Giant Trevally all year round average 20kg up to 50kg. This fishing is dependant on fisherman's ability to cast and weather.
Fishing Equipment
All of our fishing equipment is shimano and is kept in great shape and serviced regularly. We are more into sports fishing so mainly fish 15kg around the FADs and 24kg closer to the reef.
Targeting GTs can also be an option, however you'll need to bring your own gear as we no longer supply the equipment to chase them, too many breakages. Good heavy casting gear is a must, Stellas, Dogfights with matching rods or their equivalent.
As jigging is so specialised we do not carry heavy jigging gear, however if you have your own and would like to go jigging then this is also an opition. Main target is the Dog Tooth Tuna. We do have slow jigging outfits.
INCLUDED
Hotel transfers, breakfast and or lunch, hot and cold drinks, all fishing (except GT lures) and snorkelling equipment. Fish caught will be filleted for you to take back for dinner.
Top